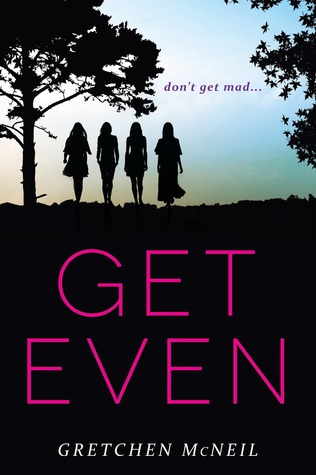 Get Even
by
Gretchen McNeil
Get Even is the story of four very different girls coming together to get revenge on the bullies of theis school. Bree, Kitty, Olivia and Margot couldn't be more different, they don't have the same friends or the same interest, but somehow they were brought together and decided to punish those that are cruel to their classmates. So, the DGM was formed, a secret group at their school that targets the bullies. But, when one of their future targets gets killed and a card of DGM is found on his body the group is the first suspect, but the police is not the only thing that has the girls scared, because one of them could be next.

I loved this one so much. Gretchen McNeil has a great writing style that just grips me and doesn't let go until the very end. It was really hard for me to se the book aside in order to do other things. The story of the four main characters is highly addictive. There are so many secrets in this book, besides the main issue of who the killer is, that will have you keep on reading. I really enjoyed them, even though we didn't get to learn who the killer is.

All the characters, main and secondary were brought to life splendidly. From the mean girls to the cool rock band, everyone had their own personality. I really enjoyed reading from all four PoVs. Can't say I was especially taken by any of the girls, but that was mainly because they were really believable. They had their good qualities but also their flaws. Still, I found that I loved all four of them by the end of the book. Each one changed and grew trhoughout the story, making care about what would happen to them in the end.

I can't wait for the next one. I don't know how many books there are going to be but I don't know how long I can wait to find the answer to the big question.