Hello everyone! 안녕하세요 여러분! It's All About Korea part 1 is finally here. Sorry about the delay...but it's Christmas and I just get completely out of schedule during vacation. If you want to see how my love for anything Korean began check out Part 1 of this blog post series: PART 1
PART 2:
Today I will be introducing the various methods and ways I use to study Korean. First of all, let me begin by saying I am merely a beginner. I've only been studying for three months, and without an actual teacher. But if like me, your days are hectic and you cannot commit to actual classes and teachers, then studying by yourself with the help of online content, websites and books is your only(?) option. And, for me at least, it really works.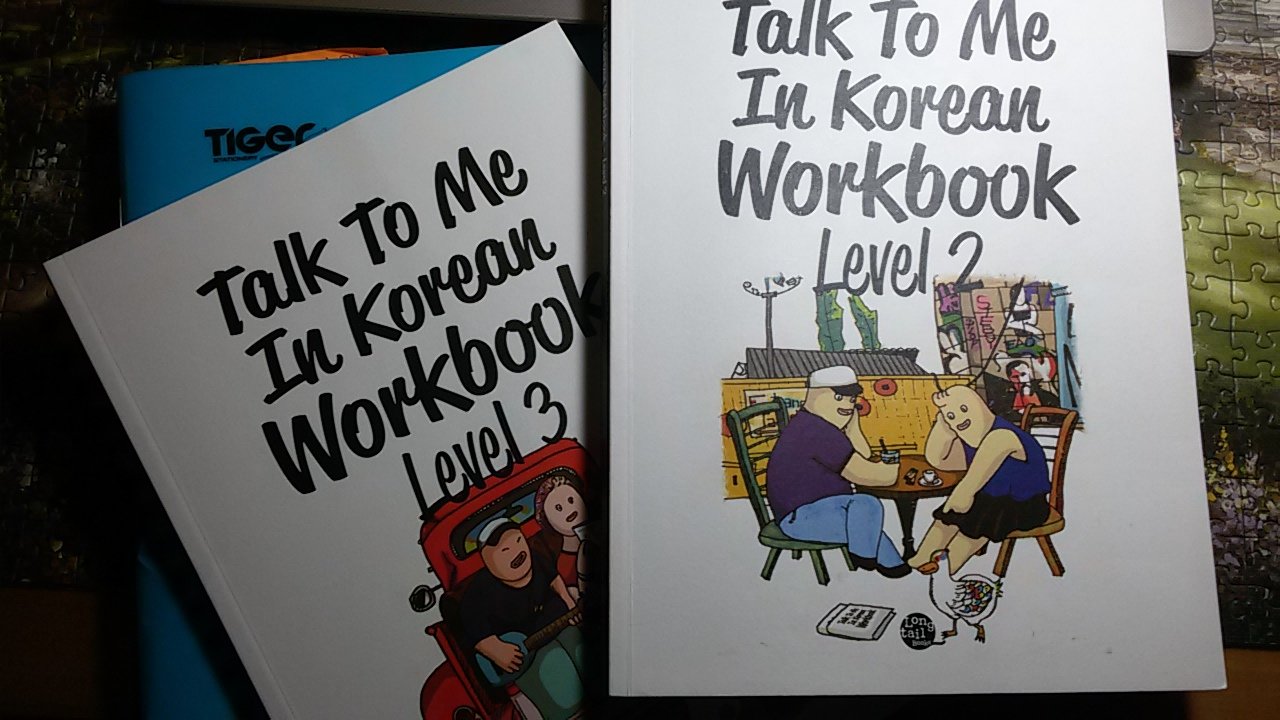 I study with the podcast lessons of
talktomeinkorean.com (TTMIK)
. They have nine different levels, starting with level one. The two main teachers are
Hyunwoo Sun (선현우)
and
Kyeong-eun Choi (최경은)
. These guys are pretty hilarious. Their chemistry is really good and every lesson flows perfectly. Every lesson is accompanied by the recording of the lesson and a pdf with everything that was covered in it and all these are completely free. There are also quite a few books that TTMIK has released and they are all beautifully compiled. I use the workbooks with every lesson and I've also bought the Verbs Guide and The Weekly Korean Vocabulary and a few more ebooks and audiobooks. When I get back to London I plan on ordering the textbooks too. But the main ones I believe you need to have are the workbooks and they are pretty much enough if you use them along with the free online lessons. You can check all the
TTMIK books HERE
. Also, a big shout-out to their online store, because I can always find the books cheaper there even though they ship from Korea and they usually have great sales and bundles.
Also, just recently TTMIK has released an audiobook/ebook with Korean Folk Tales and Aesop's Fables that is just precious. And they are working on more audiobooks (which are great listening practice).
TTMIK also has a
youtube account
that regularly releases videos with Korean stories, vocabulary, word comparison etc.
So, these are all the methods and ways I use to study Korean. I am just about to start Level 3 of TTMIK and even though my speaking skills are lacking, due to the fact that I have no one to practice with, my reading and listening skills have been constantly improving.
Here is a preview of what's to come this month and what has already been discussed.
PART 1:

Where It All Began (Read the post)

PART 3:

K-Pop and Korean shows

PART 4:

YouTubing about the Korean Wave and Korean subscription boxes