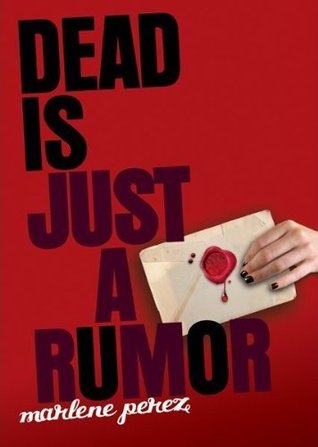 Dead Is Just A Rumor
(Dead Is #4)
by
Marlene Perez
Another great instalment in the Dead Is series by Marlene Perez. In this 4th book it's Halloween time. I love Halloween, even though we don't celebrate it in Greece, and I love books taking placing during that time. So, of course, Halloween in Nightshade is not an exception. This time around, a lot of Nightshade's resident are being blackmailed. And everyone of the blackmailer's victims is a paranormal. So once again Daisy is on the case. Trying to figure out who is blackmailing half of the town is not her only worry though. She is taking cooking lessons with a very demanding chef, her dad is back after six years and is in overprotective mode and her student counsellor seems like is out to get her.
This was another fast and fun story about Nighstshade. We got to see more of our beloved characters and even met some new ones. We saw more of the Sourge, the organization after the paranormals, and learn a bit more about Nightshade's history and the mystery that is Lil, the prophetic jukebox.
I had such a great time reading this. I loved the interactions between Daisy and her sisters. They are one of my favorite book families. Also, I love Ryan, Daisy's boyfriend he is adorable and Sam, her best friend. I've come to love them all after so many stories about them.
All in all, this was fun. The mystery was a bit predictable as in the rest of the books, but still very entertaining.