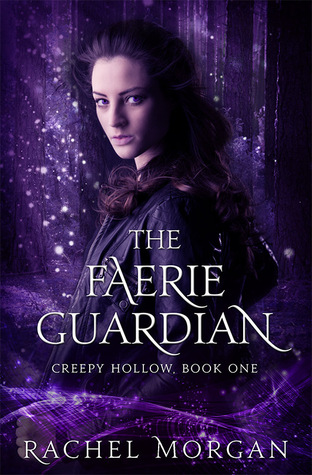 The Faerie Guardian (Creepy Hollow, #1)
by Rachel Morgan
This is the first book in the Creepy Hollow series. It is also the introduction of the main character, Violet, of the first trilogy. Violet is a Fae guardian in training and in her last mission she finds a human boy,Nate, that can actually see her and to top that he somehow manages to come with her to the Fae world where no humans are allowed. After that a crazy adventure begins, saving kids, discovering Nate's past and Violets own history in the Fae world are only part of it.
When I think of this book one thing comes to mind: non-stop action. Vi gets into so many adventures/troubles and has to fight her way through them. She is so kick-ass, I truly found her the perfect MC. Also, I fell in love with Ryn, her nemesis, he started out as a simple-minded jackass but ended up being my favourite character of the book.
My only issue was with Nate, Vi's love interest. I found his character a bit simple. I could not, for the life of me, figure out what Vi saw in him, especially since she was pretty awesome herself. I hope we get to see more of him in the future and maybe see another side to his character because so far he's been a bit one dimensional.
So, if you are up for a wild Fae ride, with a lot of magic and crazy situations, like a labyrinth and a Masquerade ball you are in for a treat. Also, I listened to the audiobook for this one and it was great, the narrator did an amazing job.