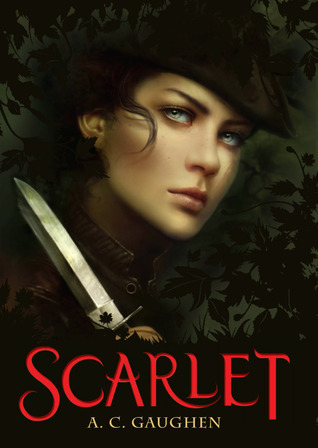 Let me start this review by saying that I am a huge Robin Hood fangirl. It all started from the anime I used to watch back in the day. I mean what little girl wouldn't fall in love with him.
Remember, I was like 10. And that was what sparked my interest for archery, which I've only tried once, but I am also an archer on video games, so technically I have a whole lot of experience. Anyways, I am rambling. Going in this book I expected a lot of action, a lot of stealing and obviously a lot of Robin. What I got was a angsty, self-torturing female protagonist who couldn't decide what her feelings were. Scarlet was not a great lead. The story moved very slow and I was bored halfway through it. The only thing that kept me reading was Robin cause he was amazing. I am surprised how the author managed to create the perfect male lead, yet such a weak female protagonist.
This (unfortunately) is the story of Scarlet, a girl who is in Robin's gang, pretending to be a boy . Only a few select know her secret and she is trying to keep it that way. In the past Scarlet had gone through a lot and she is currently running away from her past and the things that haunt her. Until one day her the sheriff decides to bring in some help to stop Robin Hood and it seems like it is someone who would love to see Scarlet suffer. Now she is faced with helping Robin and running away from the guy of her past.
I know it doesn't sound promising, but Scarlet's PoV really messed this book up for me. The writing wasn't really good either. It kind of reminded me of how Huckleberry Finn was written and that was another book that was impossible for me to get through. If you've tried to read that you would know what I am talking about.
All in all, this book was a disappointment. I am not going to carry on with the series. And it makes me sad that such a great character as Robin would go to waste in such a storyline.