Title: Faded (The Faded Trilogy, Book 1)
Author: Chloe Miles
Pages: 392
Genre: Young Adult/Paranormal Romance
Synopsis:
"Savannah wanted to kiss him, but she had never even kissed a human guy before, let alone a ghost. How was she supposed to kiss him if he wasn't really there?"
Savannah has never been in love before, but she's in love with Hunter Emmerton. He's cute, funny, charming ... and a ghost. How can you date someone if nobody else can see them?
When seventeen-year-old Savannah Fraser and her three friends are killed in a car accident, they are given a second chance at life by a group of century-old earthbound spirits who need their help.
Savannah learns she is a Chosen One, which means she can switch between human and spirit form, heal people, and control the weather—and she is also now invincible.
The Chosen Ones are the only ones who can defeat The Forces—a trio of evil half-spirits who are slowly destroying the perfect little town of Fort Everwick with violent storms and not-so-natural disasters—and stop them from harming everyone they care about.
The Forces are set on destroying everything Savannah knows and loves, but they also have a more sinister plan—they want a new member to join them. They won't give up until they get the one they want—and they have Savannah firmly in their sights.
But what Savannah didn't count on was falling in love with Hunter. She's never loved anyone the way she loves Hunter, and she knows he loves her, too. But how can they be together forever if he no longer exists and she's the only one who can see him?
Will Savannah have enough belief in herself to defeat The Forces, or will they be able to lure her to the dark side and turn her against her loved ones—and tear her and Hunter apart?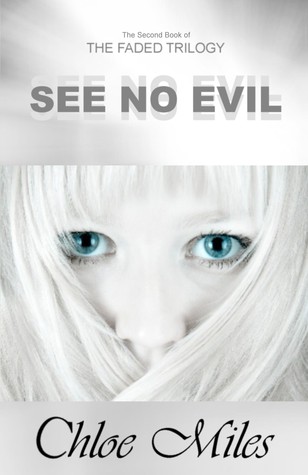 Title: See No Evil (The Faded Trilogy, Book 2)
Author: Chloe Miles
Pages: 350
Genre: Young Adult/Paranormal Romance
Synopsis:
"You could have perfect vision and still not see the evil in someone. Well, at least not want to see it, anyway."
The enthralling story that was built in Faded continues in exciting and unexpected ways in this action-packed sequel in The Faded Trilogy.
Are Savannah's dreams predicting the death of someone close to her? Or is it someone even closer than she thinks? Can Savannah save one of her best friends—and stop another from suffering the same fate?
Savannah will need more strength than she ever has before if she is to defeat The Forces for good, and with Hunter's love and encouragement to believe in herself, she finds the confidence she never knew she had.
However, while The Chosen Ones become more confident in their roles as protectors of Fort Everwick, The Forces only become more evil—and prove they will stop at nothing to win.
What will Savannah do that will change everything and determine her position of power over The Forces forever—and prove to them that she just might have it in her to beat them at their own game?
But while becoming their biggest threat, it also reinforces Savannah's position as Gwen's most cherished target.
Author: Chloe Miles
Pages: 462
Genre: Young Adult/Paranormal Romance
Synopsis:
One of Savannah's friends is hiding a secret that will change her life—forever.
In this heartbreaking yet heartwarming conclusion to The Faded Trilogy, Savannah is facing an epic final battle with The Forces—and the possibility of losing Hunter forever.
If Fort Everwick no longer needed protecting, and Hunter was free to cross over, would he stay with Savannah as he promised—or leave her to live the normal life she deserves?
Savannah can't imagine her life without Hunter, but does he love her truly enough to let her go?
Until then, The Chosen Ones only have one thing on their mind—defeating The Forces. But they are stronger than ever—and not prepared to go down without a fight.
Will The Forces finally be defeated once and for all? And can Savannah and Hunter really live happily ever after?
1. Describe The Faded Trilogy in 3 words.
Inspiring, goosebump-inducing, romantic.
2. What inspired you to write The Faded Trilogy?
I wanted to write a paranormal romance that was a little different to everything else that's already been written. I loved the idea of earthbound spirits protecting the town from evil. And, being a hopeless romantic, I loved the idea of eternal undying love, especially between two characters who are so young but whose love is so rare and beyond their years.
It happened to be storming when I was coming up with the idea for the series, so that's the inspiration behind the power over the weather that the characters possess and the unpredictable storms terrorizing the town.
3. Where do you usually write?
I usually write at my computer desk in my little home office. Ideas can come to me at any time though, so I always take a little notebook and pen with me wherever I go in case inspiration hits.
4. What is the one thing (or multiple) you always have with you while writing?
Coffee, tea or hot chocolate ... depending on what mood I'm in :)
5. Which are your top 3 favourite series/books of all time?
I've been a die-hard Harry Potter fan since I was twelve, so I would have to say my top three favourite books would be any three of the Harry Potter books in no particular order.
6. Your favourite movies or TV shows?
I adore Gilmore Girls! And I'll never miss an episode of The Ellen Show. I loved all of the Harry Potter movies, and I could watch Legally Blonde and The Princess Diaries over and over again.
7. What should we expect from you in the future?
I want to dedicate my heart and soul to The Faded Trilogy and ensure its success before I move on to any other writing projects. You never know what may happen in the future in regards to other writing projects, but right now my heart belongs to Savannah and Hunter.
a Rafflecopter giveaway