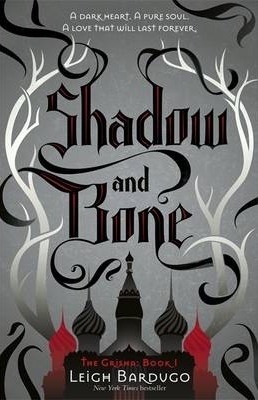 Shadow and Bone (The Grisha #1)
by Leigh Bardugo
Shadow and Bone is the first book in the Grisha trilogy. The story takes place in world that resembles Russia. This story is about Alina, an orphan girl who thinks she is nothing special until thay day she enters the Void, the darkness that separates her country from the west sea. Inside the Void her powers manifest and they are different than anything else. Alina is a Sun Summoner, she can summon the light fo the sun and soon after she uses her powers she is taken away to train along with the rest of the Grisha. But of course nothing is what it seems in the court and everyone has their own agenda.
There is a lot of hype for this book so maybe that's why it didn't completely live up to my expectations. Don't get me wrong I fell in love with the world, that much I can say. The Grisha, the court, the creatures, the magic, everything was brilliant. Also the story was really good too.
But what I didn't enjoy much were the characters. Alina was okay I guess, I didn't mind being inside her mind, and I could relate to her struggle to figure out where she belongs and what she is to do for the rest of her life. But besides her we didn't get to learn much about anyone else. When we first met the Darkling I had really high expectations. I hoped he'd be the tortured, lonely soul, something like Julian from the Forbidden Game trilogy by L.J. Smith, but unfortunately he wasn't. Or at least so far he isn't. And then there is Mal, Alina's best friend since childhood, and her secret crush. We didn't get to see that much of him, we just know how Alina sees him hopefully we'll see more of him in the future, because right now I can't even bother to form an opinion about him.
All in all, this was a really good start. I loved the Grisha world. And the story was amazing. Can't wait to keep on reading.